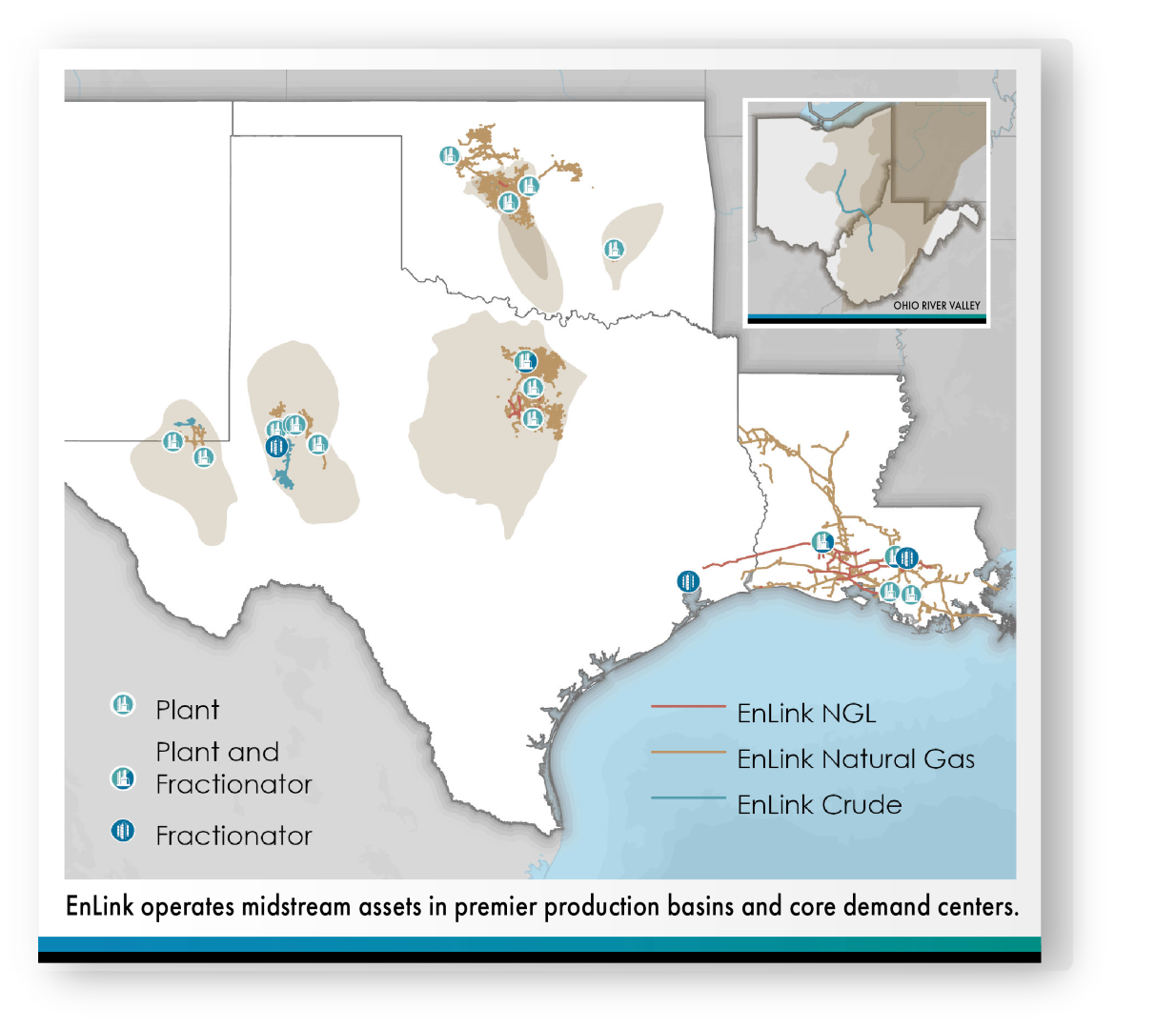 Headquartered in Dallas, Texas, EnLink (NYSE: ENLC) provides midstream energy infrastructure services that connect upstream production with downstream consumption, including gas utilities and industrial users. We also have carbon dioxide (CO2) transportation capabilities and are building our Carbon Solutions business to support carbon capture and sequestration projects that are an important part of reducing industrial emissions.
EnLink's employee base, which is over 1,100 strong, operates midstream assets in premier production basins and core demand centers, including a growing footprint in the prolific Permian Basin, the largest intrastate natural gas pipeline network in Louisiana, leading gathering and processing positions in Central Oklahoma and North Texas, and assets in the Ohio River Valley. Click here to view our interactive operations map.
Our assets serve as an essential component of the heavily regulated midstream process that transports and transforms natural resources - natural gas, natural gas liquids (NGLs), and crude oil - into the essential energy products that we directly and indirectly use in our everyday lives. In addition, EnLink is playing a role in the energy transformation through our growing Carbon Solutions business. It's one way that we're becoming the future of midstream and creating sustainable value for our stakeholders.
At EnLink, we value ourselves as more than our business portfolio. EnLink has long been a people-focused company that strives to live up to our mission of connecting energy to life by creating a vibrant culture for our employees and being a trusted partner to our customers.
EnLink has a companywide focus on reliable operations, best-in-class customer experience, and following our Core Values that emphasize integrity, safety, people, innovation, and excellence.
Our Mission
We Connect Energy to Life through midstream services that improve our customers' businesses, employees' lives, local communities, and investor returns.
Our Vision
To become the future of midstream by leading in innovation and creating sustainable value.
Our Core Values
SAFETY. Period
We prioritize the safety of our employees, customers, and all stakeholders.
We focus on process, proactively prepare for the unexpected, and emphasize safe and environmentally responsible operations.
We live a GoalZERO mindset.
We are focused on sustainability – respecting the environment, operating responsibly, and caring for our people, stakeholders, and the communities where we live and work.
Uncompromising INTEGRITY
We do the right thing for our customers, employees, investors, and the community.
We value honesty, transparency, and we don't compromise on our strong moral and ethical values.
We hold ourselves accountable to do what we say we will do.
Focus on PEOPLE
We invest in our people – hire the brightest talent, help them develop, and cultivate their creativity.
We recognize that teamwork is the cornerstone of our success and promote a culture of inclusivity.
We are servant leaders who put others first – our customers, employees, and communities – in our decisions and actions.
Continuous INNOVATION
We drive a rigorous innovation process, encouraging and recognizing our people for thinking outside the box.
We challenge ourselves to develop smarter, sustainable, more efficient ways to do things.
We aspire to lead our industry in technological innovation.
A Relentless Pursuit of EXCELLENCE
We wake up every day on "GO," with a drive to deliver results.
We give our best effort at everything we do and strive for excellence.
We seek to understand our customers' challenges and work hand-in-hand to overcome them.
---
More in the "EnLink & the Energy Industry" section:
---
Other sections:
The information and data (collectively, "Information") provided in EnLink's 2022 Sustainability Report ("Report") reflects content as of and for the period ending December 31, 2022, unless otherwise indicated. Such Information in this Report is for informational purposes only. EnLink does not make, and hereby expressly disclaims, any representation or warranty as to the accuracy or completeness of the Information contained herein. This Report is being published on August 1, 2023, and EnLink has no obligation or duty to (1) update or correct the Information, (2) provide additional details regarding the Information, or (3) continue to provide the Information, in any form, in the future. EnLink reserves the right, in its sole discretion, to modify, update, change, delete, or supplement the Information from time to time without notice. The Information should not be interpreted as any form of guaranty or assurance of future results or trends. EnLink is not expressly incorporating by reference any of the Information into any filing of EnLink made with the United States Securities and Exchange Commission or in any other filing, report, application, or statement made by EnLink to any federal, state, or local governmental authority. This Report contains information based upon EnLink's role in the broader economy, environment, and society and for the purpose of responding to issues that are important to a wide range of interested parties. While events, scenarios, and efforts discussed in this report may be significant, any significance should not be read as necessarily rising to the level of materiality of the disclosures required under U.S. federal securities laws, which have distinct and specific concepts of materiality.