EnLink focuses on the best interests of our stakeholders and makes decisions with our long-term sustainability strategy in mind.
Sustainability Background
EnLink has been focused on sustainability, as our Core Values have long emphasized the importance of safety, integrity, people, innovation, and excellence.
In response to increasing focus on environmental, social, and governance or "ESG" issues, we established an official sustainability program in 2018, issuing our inaugural Sustainability Report shortly thereafter. Since then, we have consistently developed the program structure and goals to align with our company strategy, industry developments, and stakeholder expectations. The timeline below shows our sustainability achievements in 2022; click here to see our achievements since our sustainability program launched in 2018.
Click here to view EnLink's past sustainability reports in our Sustainability Report Archive.
Sustainability Governance
EnLink's management-approved, companywide sustainability policy drives our sustainability approach and communicates expectations to employees. Our sustainability management structure includes a Sustainability Core Team composed of leaders from multiple departments, allowing for diverse consideration of ESG-related topics across the company, as sustainability is a foundational element of EnLink's strategic plan. Additionally, EnLink's Board of Directors has ultimate oversight of EnLink's sustainability.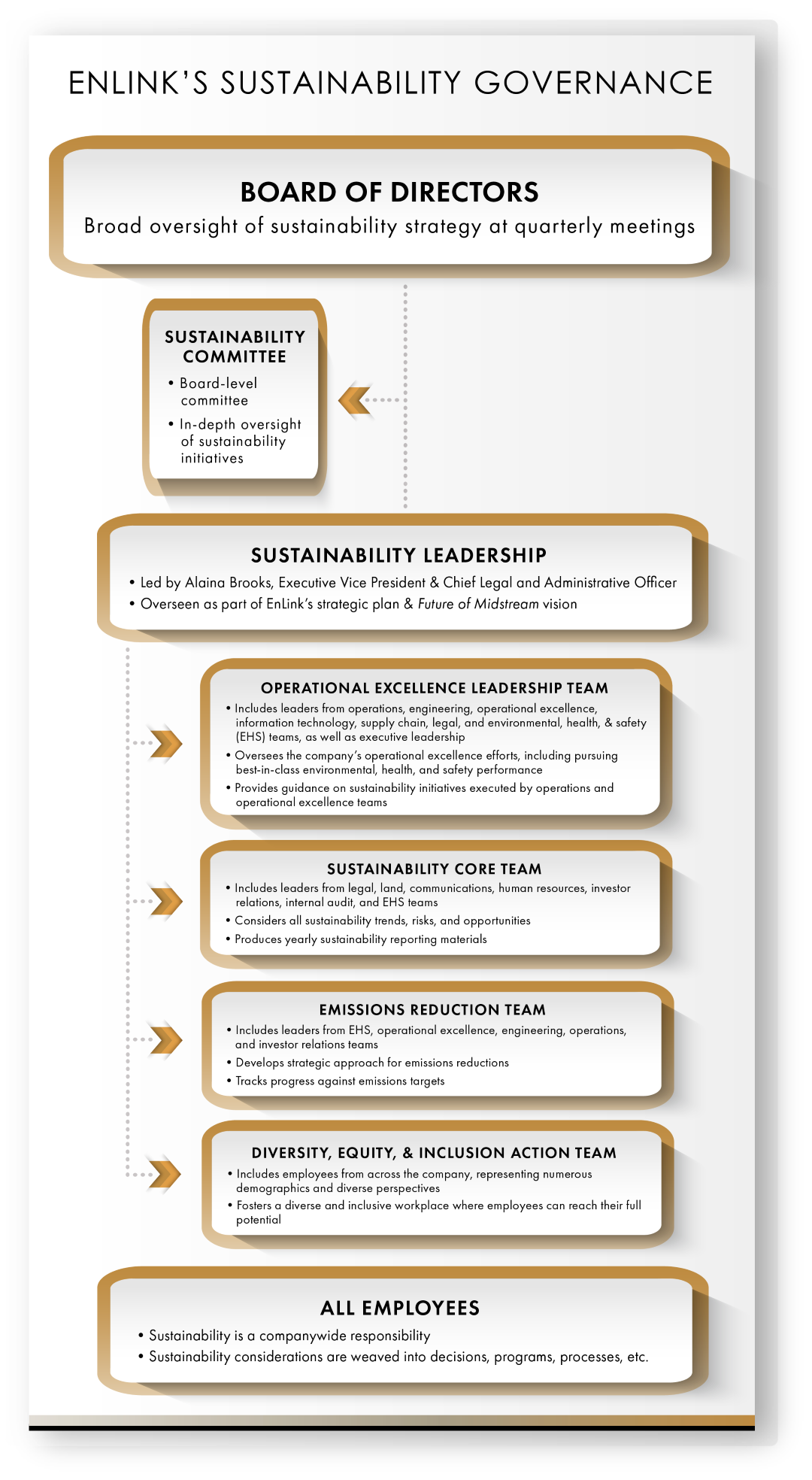 Sustainability Focus Areas and Data Assurance
EnLink monitors and reports progress in three main sustainability areas, as summarized below. These focus areas are reviewed regularly by the Sustainability Core Team and may expand or change periodically to meet evolving sustainability best practices, company needs, and industry trends.
Environmental Stewardship, which includes energy transformation, energy use and emissions, environmental performance, biodiversity and habitat maintenance and restoration, and asset integrity and reliability.
Social Responsibility, which includes employee and public safety; emergency preparedness and response; employee development; diversity, equity, and inclusion; community involvement; and supply chain.
Governance and Ethics, which includes corporate governance, code of business conduct and ethics, risk management and business continuity, cybersecurity, and sustainability reporting.
EnLink's Internal Audit team conducts an extensive review of EnLink's annual Sustainability Report, assessing the completeness and accuracy of the data and evaluating the report's metrics, components, and attributes against industry standards and best practices. The report is reviewed by our executive leadership and Board-level Sustainability Committee prior to issuance.
---
More in the "Sustainability Report, Strategy, & Data" section:
---
Other sections:
The information and data (collectively, "Information") provided in EnLink's 2022 Sustainability Report ("Report") reflects content as of and for the period ending December 31, 2022, unless otherwise indicated. Such Information in this Report is for informational purposes only. EnLink does not make, and hereby expressly disclaims, any representation or warranty as to the accuracy or completeness of the Information contained herein. This Report is being published on August 1, 2023, and EnLink has no obligation or duty to (1) update or correct the Information, (2) provide additional details regarding the Information, or (3) continue to provide the Information, in any form, in the future. EnLink reserves the right, in its sole discretion, to modify, update, change, delete, or supplement the Information from time to time without notice. The Information should not be interpreted as any form of guaranty or assurance of future results or trends. EnLink is not expressly incorporating by reference any of the Information into any filing of EnLink made with the United States Securities and Exchange Commission or in any other filing, report, application, or statement made by EnLink to any federal, state, or local governmental authority. This Report contains information based upon EnLink's role in the broader economy, environment, and society and for the purpose of responding to issues that are important to a wide range of interested parties. While events, scenarios, and efforts discussed in this report may be significant, any significance should not be read as necessarily rising to the level of materiality of the disclosures required under U.S. federal securities laws, which have distinct and specific concepts of materiality.